Mumbai, the former Bombay, is an almost indescribable city. A maximum, 24 hour, high speed, bombastic, nerve shredding place where the psychedelic future collides with a medieval past. More expensive than Manhattan, it is home to millions of people and is the 2nd most populated city on Planet Earth. The traveler cannot prepare for Mumbai. Mumbai happens to you. It assaults you. It gets into your airways, under your fingernails, and in most cases, shoots a rusty arrow straight into your heart. In a city than is home to India's biggest players, the uber wealthy of the world, poverty is everywhere. Millions sleep on the streets or in the now famous slums. Political agenda is everywhere, blasting out of speakers mounted on street corners, dominating the cityscape. Mumbai is intense, so much so that the very act of writing the flimsy words make a joke of the reality.
Mumbai tells it's epic story through visual messages. Street art in India has existed since the dawn of humanity. Indian people love to embellish, decorate, adorn and maximize every surface. Religious and political viewpoints are as visible as Bollywood movie posters, or the massive proliferation of Vodafone and Airtel advertising. But painting with spray cans is a new thing, which has seeped through via hip-hop and MTV.
The Wall Project is an open project, started by four students from the National Institute of Design. Their approach is intrinsically different from their more studied Western counterparts. "It's interesting to understand patterns, ideologies and styles that western graf has, but it need not work for us in the same way," says Dhanya, a founding caretaker of the project. For example, writers in the west enjoy the highly politicized concept of seeing their particular name in the public sphere. It is personal, and arguably and egocentric display. Conversely, one of The Wall Project's fundamental requirements is that those taking part do not actively seek to offend. "In India, one is already bombarded with so much information, advertising, traffic, noise," says Dhanya, "Why not add something that would instead relax the mind and soothe. Look around in Mumbai – there are political slogans and posters and faces of politicians and their supporters glaring at you all around. Why would we want to add any more to that mess?"
The Wall Project artists seek to provide a visual reprieve from the overwhelming pressure of Indian life. There is a naivety, a sweetness to the work. Anyone can be part of the project, making it an inclusive and person-to-person exchange. "There is no need to paint illegally in India," says Dhanya. "There are so many dirty walls, no one would mind a fresh coat of paint and color." Unfortunately, the flip side of this is multinational corporations taking full advantage. Vodafone, Airtel and Coke-a-Cola are brands whose visibility cannot be ignored. Their logos absolutely saturate modern India, simply by offering street vendors and homeowners a fresh coat of paint. The advertising strategy seems to be total blanketing of the country. "The average street vendor don't realize it's value and how much cheap visibility these companies are getting," says Dhanya.
The Wall Project has stretched far up into the mountains of Ladakh, to the ghats of Varanasi, to the beaches of Goa. Painting in the streets of India is about having a personal relationship with the space around you. The general public's reaction has been enlightening and positive. "The public is curious and excited," says Dhayna of works in progress. "They are amazed that people can do something for the city without expecting anything back! They are sometimes suspicious, but once we chat with them some offer food and juice, or even show us more walls. It's fun and addictive. More and more people are watching what we are doing and have joined in, from kids to senior citizens. Some even got inspired and started their own collectives!"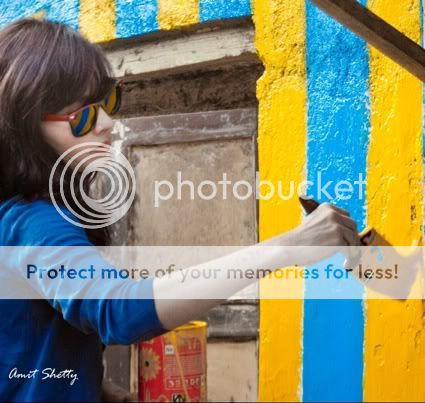 It's an empowering creative movement in a country where one's place can often be lost in the chaos of survival. The idea that awareness (of how you can inspire, of what you can do for those around you) can create a better way of living is what The Wall Project hopes to ultimately convey though street painting. It's an exciting time for the emerging culture of Indian street art. A new movement in its infancy is something graf artists in the west can only remember and romanticize.